MAZDA Complimentary Maintenance In Fort Lauderdale, South Florida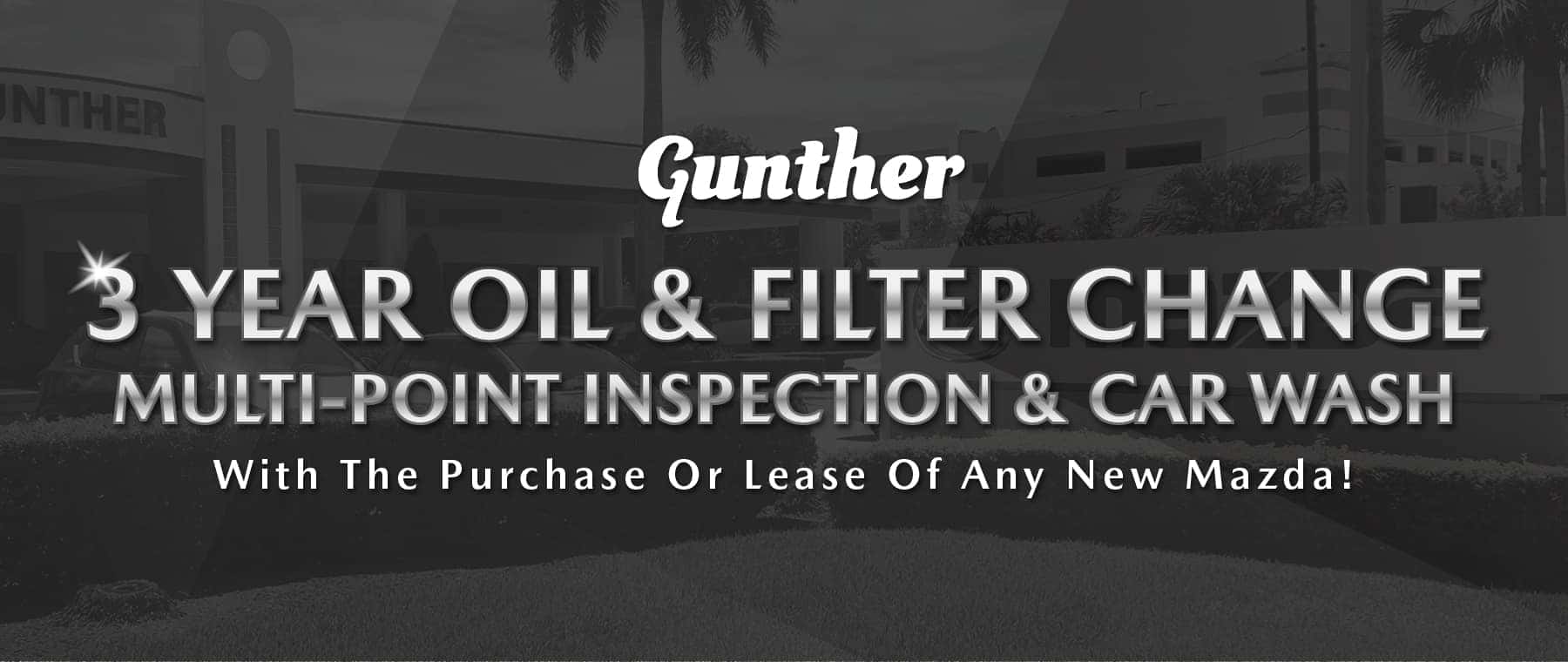 We've listened to our customers and are thrilled to offer Mazda free maintenance services, only from Gunther Mazda! Everyone who drives off in a new Mazda vehicle absolutely loves their ride and the experience they get from Gunther Mazda of Fort Lauderdale, FL. If there's been one thing that our customers have asked us for across the board, it's to step it up with respect to the factory maintenance program. As you may know, complimentary maintenance isn't offered from the factory, but when you shop with us, we'll include your genuine Mazda oil change, multi-point inspection, and vehicle wash –– per our compliments. For three whole years (or 30K miles)! Scroll below to learn a little more about this incredible value.
Genuine Mazda Service & More
It's a well-established fact: there's no place like home. Get the quality, reliability, and integrity that you deserve to keep your Mazda vehicle running its best. Whether you're coming in from a track day or a few months of commuting, your Mazda3 will thank you! If you've been adventuring through town with your family and escaping into the unknown, your gorgeous Mazda CX-5 deserves the premium service that only Gunther Mazda can provide.
Did you know that we can upgrade any Mazda vehicle with genuine Accessories?
Did you know that we can help you winterize your Mazda vehicle for trips up north?
Did you know that we've got plenty of coupons to help you save on essential services?
Take advantage of everything that our service center has to offer and get the most out of your premium Mazda vehicle. After all, that is why you chose MAZDA, right? Now you can have worry-free service and enjoy all that performance. Consider our Mazda free maintenance program the wind in your "Dynamic Wings." You did know that's what the Mazda logo was called, right?
While You're Relaxing
We'll have you back out there on the road in no time. We know you've got things to do. In the short while you'll spend with us enjoying your Mazda free maintenance, what better way to immerse yourself in all things Mazda than with a stroll through our sun-drenched showroom in South Florida? Check out the latest vehicles from the brand you love and think about which exciting model is next. Check out a Mazda CX-30 lease and see what compact capability is all about. If you are in the mood for something larger, like amenities and seating for up to seven passengers, a Mazda CX-9 lease might be just the one.
As always, Gunther's got your back. We love our customers, and we love the cars that we help put in their driveway. Mazda complimentary maintenance is just one of the many ways we get to say "thank you" for being a loyal Gunther customer!
*Last voucher at 30,000 miles or 36 months from original purchase date. Voucher only redeemable at Gunther Mazda with proof of purchase. Valid for specified service intervals only. No cash value. excludes previous sales. See Gunther Mazda for complete details.