Mazda CX-5 Cargo Space, Interior & Exterior Dimensions

The Mazda CX-5 cargo space is just one of many impressive things about this sleek vehicle. Mazda cars are known for being fun to drive between their superb handling and acceleration, and the Mazda CX-5 is no exception. Both of its available engines provide engaging acceleration, and the suspension tuning is second-to-none. Whether you're trying to negotiate curvy backroads or enjoy a smooth ride on the highway, the Mazda CX-5 is up to the task.
In this article, we will examine the Mazda CX-5 size and dimensions. This should help you decide if this vehicle has the cargo space and legroom you and your family require.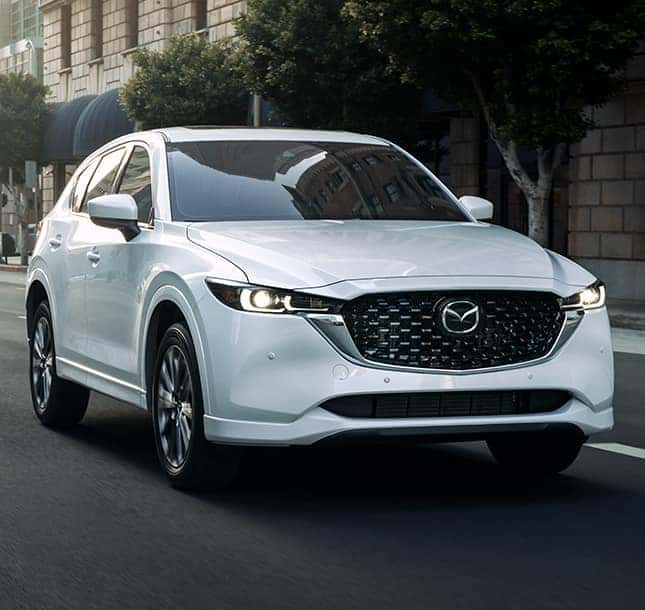 Mazda CX-5 Dimensions
The Mazda CX-5 has impressive exterior dimensions in addition to the stunning Mazda CX-5 cargo dimensions. This vehicle is 180.1 inches long, 72.6 inches wide (not counting the mirrors), and 65.3 inches tall. These numbers are in the sweet spot: the Mazda CX-5 is not so large that it is difficult to park and maneuver, but it is large enough to seat five in its two rows comfortably.
The wheelbase of the Mazda CX-5 is 106.2 inches, and it has a minimum ground clearance of 7.5 inches. That means you can comfortably take this vehicle off the beaten path if you want to use it to go camping or drive it right up to the water for a family fishing expedition. If you want to learn more about this car, check out the Mazda CX-5 towing capacity.
Now that we've seen that the Mazda CX-5 has impressive exterior dimensions that make it a great family vehicle, we will look at the Mazda CX-5 cargo volume. These specs promise to be just as appealing as the exterior dimensions of this sleek SUV.
Mazda CX-5 Interior Dimensions
There is a plethora of Mazda CX-5 cargo space. The vehicle has 30 cubic feet of storage room behind the second row. That's plenty of space for your family's luggage or all of the camping equipment you need for a weekend in the wilderness. You'll also have more than enough room when you take your new Mazda CX-5 to the grocery store.
The Mazda CX-5 cargo capacity is even more impressive with the second row of seats folded down. It rises from 30 cubic feet to 59.3 cubes, just about doubling. If you need to pack up your apartment and move, this vehicle can get it done in just a couple of trips. You can also easily move your teen off to college in the Mazda CX-5.
When you are using the back seats, you'll find that there is plenty of space for your passengers. With 39.6 inches of second-row legroom, the kids will have plenty of room to stretch out, keeping them happy even on long rides.
The cargo space of this SUV is not the only impressive thing about its interior. It is packed full of premium materials – you won't find cheap plastic adorning the inside of your Mazda CX-50. Depending on the trim you select, you'll also be treated to goodies such as heated seats and intuitive digital displays.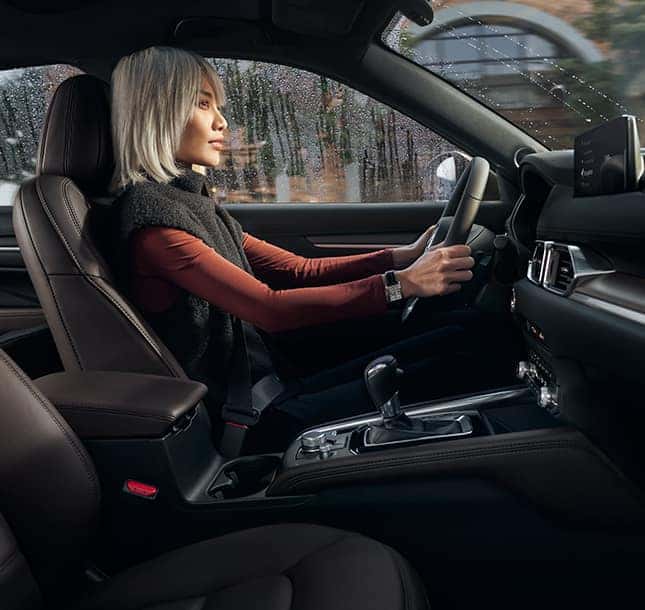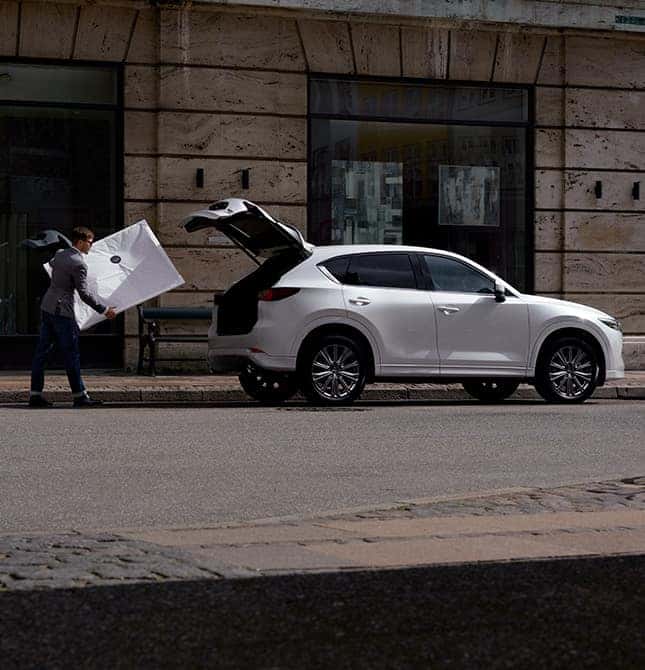 Mazda CX-5 Cargo Space
The 30 cubic feet of storage space in the back of the Mazda CX-5 is impressive, and the 59.3 cubes you get with the second row folded down even more so. All of this comes on top of the superb specs and construction of the Mazda CX-5. We haven't even mentioned the standard safety features found on this sporty SUV; these include automated emergency braking, lane-departure warning, adaptive cruise control, and lane-keeping assist.
If you're ready to jump into a new Mazda CX-5, Gunther Mazda is the place to get it. Our friendly team is dedicated to customer service. You'll experience this firsthand when you work with our finance team to get the low-rate financing package you deserve on a Mazda CX-5 or any of the other great vehicles in our inventory. Contact us today to schedule a test drive of this stunning Mazda SUV.
---
Frequently Asked Questions
How big is the cargo space in a Mazda CX-5?
When you purchase the 2022 Mazda CX-5, you will love having 29.1 cubic feet of cargo room behind the rear row. This puts it in the top ten of crossover SUVs with the most cargo space. You can boost your storage area to 58.1 cubic feet if you fold down the rear row. This is plenty large enough to store suitcases, camping gear, and more.
What are the exterior dimensions of a Mazda CX-5?
A Mazda CX-5 is 65.6 inches tall, 72.6 inches wide, and 180.1 inches long. You might also find it useful to know that it has a 106.2-inch wheelbase.
Is the Mazda CX-5 spacious?
Yes, as crossover SUVs go, it is very spacious. Not only does it have truly impressive cargo capacity compared to most others in its class, but it comes with nearly 40 inches of rear legroom, which means even tall passengers in the second row can stretch out. In the front, you get 41 inches of legroom.
Continue Your Mazda Research:
---
Need More Information About The Mazda CX-5? Contact Us!