Home > Mazda CX-5 Colors
Mazda CX-5 Interior & Exterior Colors Guide

Motorists seeking a new SUV brimming with eye-catching style should see the Mazda CX-5 colors available. The new Mazda CX-5 boasts a sleek exterior design and a premium cabin space further enhanced by the striking color options that the automaker offers inside and out across this compact SUV lineup.
If you've already decided that the sporty new Mazda CX-5 is the crossover SUV for you, then you're in good company. Now, you'll just need to decide which combination of Mazda CX-5 colors best suits your preferences and personality.
Let's look at the exterior and interior colors available on this Mazda SUV so you can start narrowing down your options and find your preferred new Mazda CX-5 for sale.
---
Mazda CX-5 Exterior Colors
The KODO "Soul of Motion" design philosophy inspires every new Mazda design. Our team will be happy to go into depth about this creative guidepost. However, the Mazda CX-5 and its breathtaking exterior also rely on unique Mazda colors to help accentuate the lines of this stylish SUV.
Mazda offers this popular crossover SUV in an array of attractive exterior colors, utilizing quality paint and application practices and even proprietary painting technology. When you shop for a new Mazda CX-5, you'll find metallic paint options of standard colors, like black and silver, along with distinctive and premium colors.
Choose from the following Mazda CX-5 exterior color options:
Soul Red Crystal Metallic Mazda CX-5
Rhodium White Metallic Mazda CX-5
Machine Gray Metallic Mazda CX-5
Eternal Blue Mica Mazda CX-5
Jet Black Mica Mazda CX-5
Sonic Silver Metallic Mazda CX-5
Deep Crystal Blue Mica Mazda CX-5
Polymetal Gray Metallic Mazda CX-5
For 2023, the Rhodium White Metallic Mazda CX-5 exterior color replaces the Snowflake White Pearl option. Rhodium White Metallic joins Soul Red Crystal Metallic and Machine Gray Metallic as the exclusive exterior paint color options on the Mazda CX-5. Each of these stunning premium paint options is achieved through the automaker's unique Takuminuri painting technology.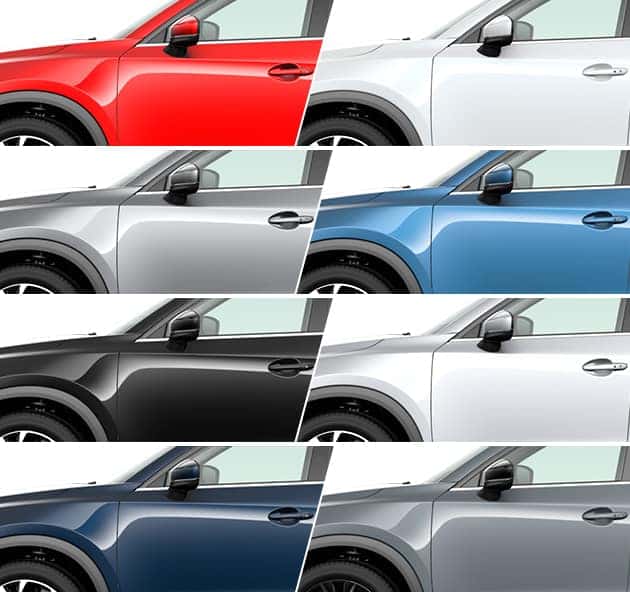 ---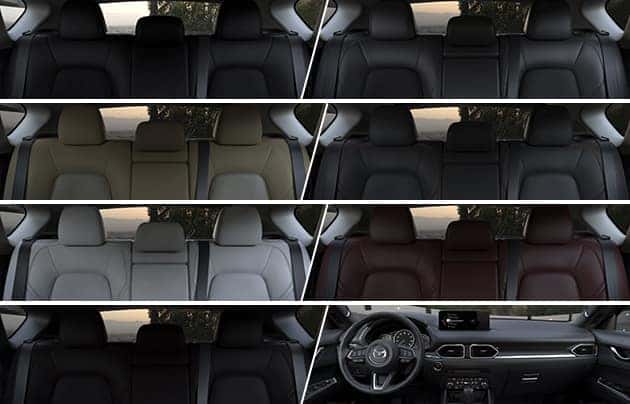 Mazda CX-5 Interior Colors
You'll want to pair your preferred Mazda CX-5 exterior color with an equally impressive interior color. Luckily, Mazda provides a plethora of premium cabin materials and hues to choose from when shopping for a Mazda CX-5, including:
Black Cloth
Black Leatherette
Silk Beige Leatherette
Black Leather
Parchment Leather
Red Leather
Caturra Brown Nappa Leather
The options for Mazda CX-5 interior and exterior colors vary by trim level. So, you'll want to consider building your new Mazda CX-5 online or contacting your local Mazda dealer to find the right Mazda CX-5 trim level and color combination for your style, preferences, and budget.
---
Tour a New Mazda CX-5
Now that you know more about the Mazda CX-5 exterior colors and interior colors available, which will you choose? If you're still having a tough time deciding, we get it. There's no shortage of stylish paint colors and interior treatments on the new Mazda CX-5.
If you've narrowed your choices to a few options, the next step is to tour some Mazda CX-5 crossover SUVs for sale in various color combinations. Seeing this vehicle in person can inspire you in surprising ways.
There's plenty you can learn about this lineup of Mazda crossover SUVs online, including Mazda CX-5 towing capacity. However, if you want to experience all that this versatile Mazda model offers, you'll want to schedule a test drive.
When you tour and test drive a new Mazda crossover SUV, you'll be able to put the Mazda CX-5 dimensions in better context and determine how this versatile vehicle fits into your life.
Frequently Asked Questions
Does Mazda do custom colors?
Mazda does not offer custom colors from the factory. However, every new Mazda vehicle is painted in an exterior color developed exclusively by Mazda. Distinctive Mazda exterior colors like Soul Red Crystal Metallic and Polymetal Gray Metallic give motorists that attention-grabbing look of a custom paint job but from a high-quality Mazda paint process. Choose from many stylish colors when shopping for a new Mazda vehicle.
What colors does Mazda CX-5 come in?
The 2023 Mazda CX-5 exterior colors include Soul Red Crystal Metallic, Rhodium White Metallic, Machine Gray Metallic, Eternal Blue Mica, Jet Black Mica, Sonic Silver Metallic, Deep Crystal Blue Mica, and Polymetal Gray Metallic. Motorists can then select from various Mazda CX-5 interior colors, including Black Cloth, Black Leatherette, Silk Beige Leatherette, Black Leather, Parchment Leather, Red Leather, and Caturra Brown Nappa Leather.
---
Continue Your Mazda Research:
---
Need Help Finding Your Next Mazda CX-5? Contact Us!