COVID-19 Update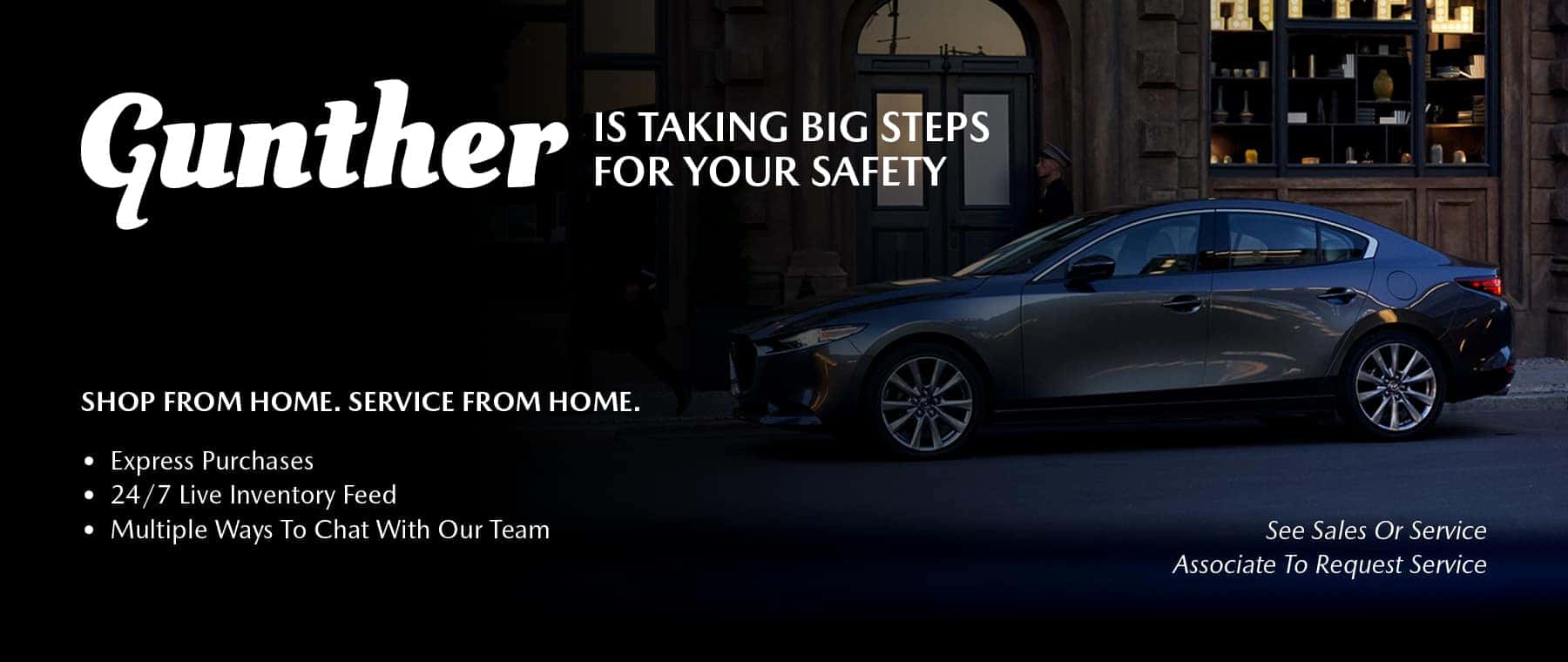 During these difficult times for all of us, the Gunther Mazda family appreciates the support and business of you, our customers, more than ever. Since 1970, you have welcomed the Gunther family into your community to serve your automotive and transportation needs. A strong, local community is what keeps us going during impactful moments such as these.
We play a big role in keeping our community on the road. While many in our community are staying home to help slow the spread of COVID-19, there are many who need to get to and from work and many who will be working more over the coming weeks than they have ever before.
Our community's doctors, nurses, and healthcare workers are our customers. Our small business and local restaurant owners are our customers. Our retail and service industry all-stars are our customers. Our electricians, our plumbers, our HVAC professionals, and everyone in between is our customers. We want all of the people supporting our community right now to know they can count on us if they need us.
At this time, Gunther Mazda will be remaining open to serve your needs. We want to assure you that we are monitoring the situation and heeding the advice of the World Health Organization (WHO), the Centers for Disease Control and Prevention (CDC), and our state and local governments. Our core internal values have always been the most important part of our business and we want to share them with you today.
Keep the Place Clean
Keeping our dealerships appropriately clean and presentable for you has always been one of our top, top priorities. Due to the spread of COVID-19, we have embraced this value more than ever. As we have all seen in the past few weeks, our guidelines and policies are adapting and changing as needed. We want both our team members and our customers to feel as safe and comfortable as possible. This is what we are doing now:
Additional hours and frequency of cleaning and disinfecting of ALL surfaces from our professional cleaning crew, bolstered by support throughout the day from all of our personnel. If it can be touched, we are cleaning it!

Keeping close interactions between employees and customers to an absolute minimum: no handshakes, no high-fives, no fist bumps!

You can always expect a car wash when you visit us. 

Encouraging our team members to stay home if they feel sick in any way.

Daily updates to all Mazda personnel, both in-house and remote, on how we can do our part to reduce the impact of COVID-19.
Create Happiness
Over the past few years, our industry has evolved and adapted more than ever. Every day, we look for new ways to improve and build upon the Gunther Mazda Customer Experience. We would like to encourage you to take advantage of one of the many programs that give you the ability to work with us from the comfort of your home:
Express Purchase option to complete the majority of paperwork from home for our sales customers, limiting time in our dealership.

24/7 Live Inventory Feed at

www.gunthermazda.com

.

Multiple ways to chat with our Mazda Team team: phone, text, website chat, and Facebook Messenger.
Do What We Pay You to Do
Gunther Mazda employs over 300 members of our community. It is important for us to support them and their families. Vehicles and transportation are an everyday need in our society. We are fortunate enough to be able to operate during these difficult times and we want to be sure to the best of our abilities that our team feels safe and sound. 
Our company and our employees support many of the small businesses in our community. With the uncertainty and fear many of our friends in the Tri-County, and beyond are facing, we hope we can do our piece to keep supporting them as much as we can. The strength of our economy is built on the strength of our local communities. We will all get through this if we support one another.
We appreciate your trust and business. Thank you for allowing Gunther Mazda to serve our community since 1970 and into the future. As this is an ever-evolving situation, we promise to you that we will quickly communicate any necessary updates through all of our social media channels. PLEASE do not hesitate to contact us with any questions or concerns.
 Gunther Motors