What Is The MPG Of The 2023 Mazda CX-30?
With rising gas prices, vehicle fuel economy has become even more important to buyers, which is why we think you'll like the Mazda CX-30 gas mileage. This crossover SUV comes with a standard 191-horsepower Skyactiv®-G engine, delivering up to an EPA-estimated 26/33/29 MPG (city/highway/combined).1
Alternatively, you can upgrade to a turbocharged engine to get up to 250 horsepower. This performance boost comes with a slightly smaller EPA-estimated 22/30/25 MPG (city/highway/combined).1 To learn more about the 2023 Mazda CX-30 MPG ratings and what powers them, read on.
---
Understanding Mazda CX-30 Trim Levels
Which engine (and subsequent 2023 Mazda CX-30 gas mileage) you get depends on your chosen trim level. This vehicle comes in seven different variants. The base engine comes on the 2.5 S, Select, Preferred, Carbon Edition, and Premium, while the elevated power can be found on the 2.5 Turbo Plus and 2.5 Turbo Premium Plus.
In addition to giving you control over your vehicle's performance and fuel economy, these levels can help you customize the creature comforts and technology found in the cabin. For example, going from the Select to the Preferred, you get an eight-way power driver's seat with power lumbar support and two-position memory, plus heated front seats. Contact us online or stop by for more details on what to expect at each tier.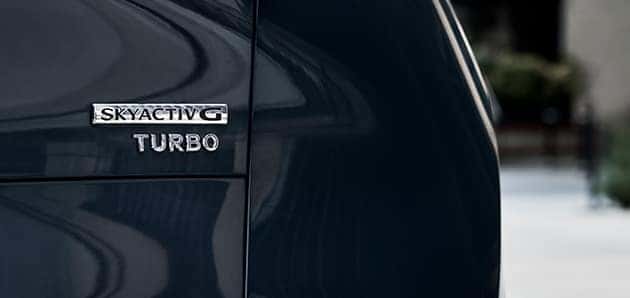 ---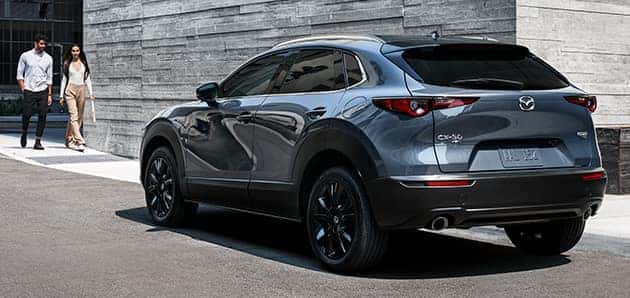 How Far Can You Go With the 2023 Mazda CX-30 MPG?
Given the above 2023 Mazda CX-30 MPG and the Mazda CX-30 fuel tank capacity of 12.7 gallons, you can ideally travel up to 419 miles on the highway and 330 miles in the city with the base engine. Of course, reaching this maximum depends on a lot of other factors, as well.
While we can't control traffic, avoiding times of serious congestion is better for your fuel consumption and probably your stress levels. Adhering to your car's recommended maintenance schedule will not only help you save at the pump but also reduce the risk of premature or extensive repairs. For instance, getting your engine oil changed at regular intervals helps lubricate moving parts and reduce engine overheating for overall better performance. When your car moves more efficiently, it uses less gas. Reducing unnecessary weight in the vehicle can also be beneficial.
---
See the 2023 Mazda CX-30 for Yourself
If you're interested in learning more about the Mazda CX-30, an in-person demonstration should be your next step. At our dealership, we can arrange for you to take one on a test drive and learn some of its modern features, like how to use the remote start system or how to take advantage of Android Auto™ and Apple CarPlay® integration.
While we hope you'll love this vehicle as much as we do, not every SUV is going to fit every lifestyle. Fortunately, we have a wide array of new Mazda cars to choose from. Our team can draw your attention to specific new Mazda specials that will help you save money on great vehicles.
A journey of a thousand miles starts with just a single step; your first step should be exploring our online offerings and then visiting our dealership today.
Frequently Asked Questions
Is the Mazda CX-30 fuel efficient?
Yes, it is. The Mazda CX-30 has impressive MPG ratings for its segment – especially when considering the fun-loving performance on top. For example, lighter cars like sedans or those that utilize front-wheel-drive systems tend to have the better fuel economy. As a powerful crossover SUV with standard all-wheel-drive at the helm, getting up to an EPA-estimated 33 MPG on the highway1 is something to smile about.
Does the Mazda CX-30 have good gas mileage?
For a crossover SUV, the Mazda CX-30 AWD MPG is something to appreciate. With this vehicle, you can enjoy the best of many different worlds. This crossover comes with more interior room and cargo space than a traditional sedan while staying nimble enough to navigate tight city streets and parking situations. In addition, you'll enjoy increased traction from its all-wheel-drive system while still retaining good fuel economy.
Continue Your Mazda Research:
---
Want To Know More About The Mazda CX-30? Contact Us!
---
1EPA-estimated mileage. Actual results will vary.